John Robertson:
Born: 9th March 1951, Irvine Central, Scotland
Died: 9th June 2020, Ayr, Scotland
John had a great interest in military history since a young ages. He was interested in all wars. He used to drive for miles and have great day outings so he could visit a war memorial in a remote Scottish village. This was long before the internet was available.
Originally he had details written down on many notebooks in some of the smallest writing imaginable. He then had a computer which he typed entries into a database program. He was really upset when he found he had put too many entries into the database and it was overwritting his first ones due to the lack of space!
Eventually we managed to setup the website in 2005 and up to his death in June he was entering a vast amount of information into it that he had accumulated over the years. He also developed many friends and contacts through his website and it gave him great satisfaction when he was contacted by relatives and friends of people whos entries are on the site.
John is survived by wife of 43 years, June. 3 sons, Colin, Craig and Jonathan. 2 daughters, Caroline and Charlene. 3 grand children, Meghan, Loghan and Millie.
TIMELINE:
October 2nd 2005 - First entry to Roll Of Honour, Paul Begay (Codetalkers).
October 9th 2005 - First entry to Awards, Joseph Robert Kerrey (Seals).
August 2006 - Image Gallery added to the site.
August 9th 2006 - First image added to the gallery, Popski
June 9th 2020 - John Robertson passed away. He had entered
31,471
Roll of honour entries,
22,335
award entries and
31,439
images to the site.
SCREENSHOTS:
2007: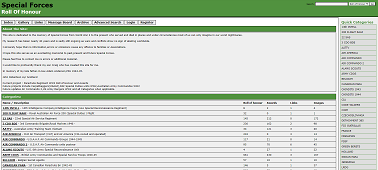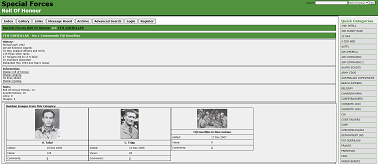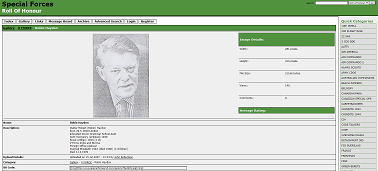 2014: